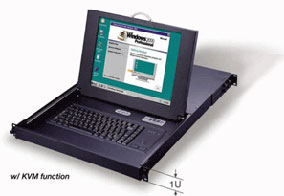 Rackmount LCD Monitor
The Rackmount TFT LCD monitor keyboard drawer model features:
Unique mechanical design to maximize rack mountable space
Unique flip up monitor design allows viewing through closed glass door of cabinet
Adjustable mounting brackets from 15-7/17 in. to 31-3/32 in. (front to rear 19in. mounts)
 This product also features Lightweight aluminum construction, Slim size keyboard with glide point touchpad mouse, and 1U (1.75in.) height.