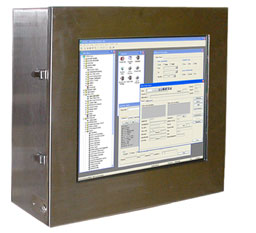 Guardian Rugged Panel PC
Industrial Computing has developed high-end industrial and military performance in a durable, economical, small footprint PC package.
The Guardian model is available in rugged NEMA 4X compliant enclosures, making them ideal for industrial and military, automation control, data collection, process and master monitoring, and operator interface applications where space and budget are limited.
The relatively lightweight, small-footprint, rugged construction, and choice of connector locations, enable flexible mounting for the Guardian, including on walls, stands or other industrial equipment.
A touch screen provides freedom from keyboard and mouse, although either (or both) of these may be added. Systems are tested to MIL-STD-167, MIL-STD-901D, and MIL-STD-461 for EMI.