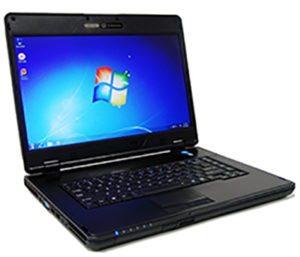 Guardian Rugged Laptop Model 115
Your work is tough. Your portable computer needs to be tough, too.  That's why you need a Rugged Guardian Laptop or Notebook from Industrial Computing (IC).
These independently certified, military grade devices are built to provide reliable performance and dependable data protection in the face of the most daunting challenges.
Key Features:
Meets IP 54 standard, MIL STD 810G Preferred by the military, oil industry, aerospace, aeronautics, and other critical situation users.
Drop resistant magnesium alloy case. Shock resistant mounting design. Spill-resistant keyboard, touchpad & switches. Drop it. Shake it. Pour water on it. Your IC Guardian Rugged Laptop / Notebook won't lose data or stop working.
DVD lock and protection Thoughtful design eliminates worry about unintentional tray ejection caused by dropping and vibration.
Security against current or voltage surges and overheating Valuable data and components are shielded from unexpected conditions
Rugged Laptop Models
17.1" Model 117
15.6" Model 500
If you don't see the configuration you need call us at 781-890-3111 to see if we can custom build it for you.