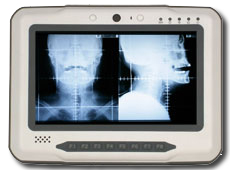 Guardian Medical Data Terminal Model M760
The Guardian Medical Data Terminal Model M760 is a lightweight compact Medical Tablet PC. It offers a highly reliable platform with flexible mounting options and the longevity required by the medical industry.
With the GPRS, GPS, Wi-Fi and Bluetooth communication modules, medical staff or home healthcare patients can link to the internet, to get information or send clinical condition data to the hospital. This instant access allows for further treatment anytime, anywhere enabling doctors to treat patients fast and precisely.
Features Include:
7" Wide Active Matrix TFT LCD Panel
Intel® Atom Z510 fanless tablet PC
EN60601-1-1/EN60601-1-2/UL60601-1 certified
Compact design Рultra slim (1.42" thickness) and ultra light (2.2 lbs)
.
Multi-connectivity (Bluetooth / WLAN / RFID / 1 x GbE LAN / optional 3G)
Instant Resume (Suspend to Disk / RAM)
Ultra reliability / IP54-compliant enclosure, and ultra-long battery life
Multiple operating modes (on-the-go / docking station)
.
Specifications subject to change without notice.
If you don't see the configuration you need call us at 781-890-3111 to see if we can custom build it for you.