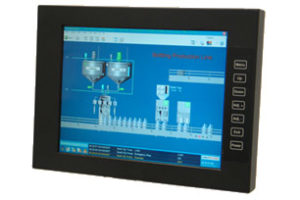 Rugged Industrial Flat Panel LCD Monitors
Active Matrix LCD Screens
8.4" through 21" Displays
800 x 600 — 1280 x 1024 Resolution
High Contrast/High Brightness For Exceptional Display Quality Configurations
Desktop, Rack and Panel Mount
This also features Video and S-Video In (optional), Capacitive and Resistive Touch Screens (optional), All in the Space Saving and Ergonomic Benefits of Flat Panel Technology, Industrial, NEMA, and Mil-Spec ratings
The color flat panel monitors from Industrial Computing offer impressive display quality, superior space utilization and a wide variety of screen sizes and resolutions. These displays are designed to meet the most demanding graphic applications. The monitors are available in ruggedized and shock-mounted configurations, for a range of industrial, airborne and military applications. With a slim profile and a wide variety of mounting methods, the Industrial Computing flat panel monitors can be mounted in almost any environment, especially where space is at a premium.
Industrial Computing's flat panel displays are designed to provide specific advantages to serious users. Displays are available with touch screens, rugged shock-mounted housings, rack-mounts, daylight viewable screens, video inputs, and special OEM configurations. Installations range from desktop to Mil-Spec applications.
As a supplier to major industrial users, military contractors, defense agencies, and financial institutions, we are experienced in providing specialized display products. Industrial Computing provides a range of sizes and capabilities to allow it to supply exactly what is needed in a given application. By concentrating on supplying a product based on commercial off the shelf (COTS) subassemblies, we can very cost-effectively approach most requirements.