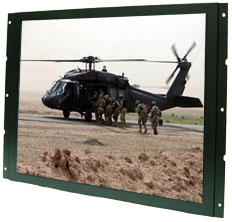 MIL-STD, Industrial, Daylight Viewable LCD Monitors
DuraBrite monitors use the most modern LED backlight systems. LED backlights offer extremely rugged designs by eliminating fragile CCFL tubes while consuming far less power and producing minimal heat loads. Please ask us about DuraBrite monitors that have been optimized for low power consumption.
MIL-STD and industrial monitor designs are available and mounting options include rack mount, industrial wall mount, and panel mount.
The DuraBrite monitor series includes industrial and military monitors in the following sizes: 8.4", 10.4", 12.1", 15", 17" and 19".
Other sizes are available; please contact Industrial Computing for more information.
Options on the DuraBrite rugged monitor series include:
Optical Bonding
Touchscreens — available in a variety of technologies
Video inputs
Industrial Computing has extensive experience in customizing mountings, housings, electronics and other design elements. Customization can often be done in small quantities at reasonable costs.  For high quality industrial LCD monitors that offer high durability cost-effective prices, please consider the Guardian™ FP-line of rugged industrial monitors.
If you don't see the configuration you need call us at 781-890-3111 to see if we can custom build it for you.