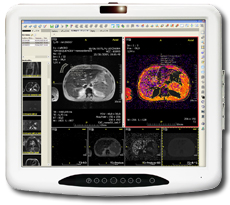 Guardian Expert Medical Station Model M1960
This is a medical tablet that's ideal for use by doctors and busy medical professionals who need to work efficiently and effectively in a variety of environments such as ERs, ORs, ICUs, and at patient bedsides. The M1960 features high-performance data processing and transmission, and outstanding graphics capability, making it an ideal choice for vital sign monitoring, nursing care, clinical diagnosis, and Picture Archiving and Communication Systems (PACS).
Features Include:
Fanless Design
Soldered Onboard Intel® Core™ i7-2610UE or Celeron® 827E Processor
19" LCD with Resistive Touch
EN60601-1, EN60601-1-2, UL60601-1 Certified
Streamlined Appearance -- just 2.2" in Thickness
Bluetooth, WLAN and GbE LAN connectivity
.
RFID Reader, 5.0 Megapixel Camera, Smartcard Reader, RF Keyboard and Slim DVD-RW
Optional External Battery or PCIe x16 Expansion Box
Isolated Serial, USB and LAN Ports
Multi-expansion (3 x RS-232, 4 x USB, 2 x LAN, 1 x Displayport and 1 x SD Card)

Intel® SSD Compatible
The versatile Guardian M1960 comes equipped with easy-to-use modules that enhance work efficiency, provide quick EMR access, and improve user security. Thoughtfully designed and ruggedly built, the M1960 is anti-bacterial, dust-proof and splash-proof. With Intel® Celeron and high-performance Intel® Core i7 CPUs available, the M1960 helps reduce workloads, eliminate human error, and improve the quality of patient care.
Specifications subject to change without notice.
If you don't see the configuration you need call us at 781-890-3111 to see if we can custom build it for you.