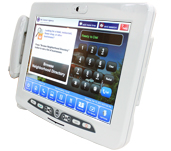 Guardian Medical Patient Monitoring System Model M1860
This is a nursing bedside care system that is 60601 medically qualified. It is designed as both a bedside infotainment unit for patients' comfort and convenience and a point-of-care workstation that is ideal for Hospital Wards/Carts and Nursing Institutions.
Powered by a fanless Intel® Atom N270 processor, the Guardian Model M1860 is a medical grade tablet PC that provides a stable and noise-free environment, which makes it suitable for clinical and nursing institutions. The 18.5" touchscreen and programmable keys are designed for ease-of-use and can be safely cleaned with alcohol, bleach and medical detergent for protection against bacterial infection.
Features Include:
EMR/EHR Software Compliant
60601 Medically Qualified Tablet
Healthcare-oriented Security System Applicable
Redundant Battery (Internal + Hot-swappable External Battery) w/ Long Battery Life (3.5hrs)
Slip-free Grip for Easy Handling
Ultra-light (1.6kg/3.5 lbs. with Internal + External Battery)
Multi-connectivity (Bluetooth/WLAN)
Integrated 2D Barcode Scanner, 2.0 Megapixels Camera, RFID Reader
Multi-expansion by Docking Station (1 x LAN, 1 x RS-232, 3 x USB, 1 x VGA, 1 x Charging Bay)
Automatically Lock/Unlock with Biometric Recognition
Medical Personnel Can:
Get quick data retrival through the RFID, barcode and Smart Card reader
Access and update patient healthcare records and medication history
case consult with the doctor using a variety of communication options
Patients Can:
Self-register
Perform a vital sign self-check
Enjoy multi-media entertainment
Use the VOIP phone to communicate with staff
Order meals right off the menu
Looking for this model with a more powerful processor? Check out our Model 1861.
If you don't see the configuration you need call us at 781-890-3111 to see if we can custom build it for you.