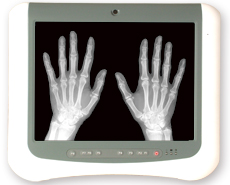 Guardian Medical Healthcare Station Model M1561
This is ideal for use in hospitals or home health care, point-of-care, or telemedicine. The Model M1561 enables authorized clinicians to securely and precisely access patient data enhancing healthcare quality and making medication management more efficient. In addition, the Model M1561 can serve as a bedside infotainment monitor to make the hospital stay easier for the patient by providing multimedia entertainment and communication functions.
The Guardian Model M1561 is equipped with a high-definition LCD module and expansion interfaces that make it suitable for all kinds of medical applications. The Model M1561's front panel is IP54 compliant, making it suitable for use in dusty environments. The Model M1561 comes with a 15" touch-screen for easy operation with finger or stylus and is based on the Intel Atom N270 processor to let you have a powerful computing point-of-care platform.
Features Include:
Soldered Onboard Intel® Atom™ N270 Processor
EN60601-1 / EN60601-1-2 Certified
Passive Cooling System (Fanless)
Front Panel IP54 Splashproof, Dust Resistant
Multi-connectivity (Bluetooth/WLAN/GbE LAN)
.
Integrated Smart Card Reader
Fanless Operation
Option: Dual Li-Battery (7,800mAH and 1880mAH) with Long Battery Life (5hrs)
Intel® SSD Compatible
.
Specifications subject to change without notice.
Looking for this model with a more powerful processor? Check out our Model 1560.
If you don't see the configuration you need call us at 781-890-3111 to see if we can custom build it for you.