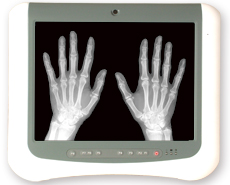 Guardian Medical Healthcare Station Model M1560
This is designed specifically for a Mobile Kiosk, e-Healthcare, the management of electronic medical records, healthcare information technology (HIT) solutions and streamlining the collection and distribution of clinical information. A custom configuration on the Model M1560 Medical tablet PC can be requested to meet the specific Point-of-Care needs of healthcare professionals.
The high-performance Intel® Core 2 Duo-based Guardian Model M1560 is a 15" durable Medical Tablet PC with a smart card reader, built-in CCD camera, and microphone. The front panel is splashproof and dust resistant. A wireless eHealthcare platform allows healthcare professionals to access patient records, medication schedules, radiological images and physician orders conveniently at the patient's bedside or in the dispensing room, emergency room or operating room. The result is a safer, more efficient, "paperless and film-free" medical information system.
Features Include:
For eHealthcare or Bedside Entertainment System Application
UL60601-1/EN60601-1/EN60601-1-2 Certified
Supports Intel® Core™ 2 Duo Processor up to T7400
Optional Fanless System with Celeron® M 423 Processor
Front Panel IP-54 Splashproof, Dust Resistant
.
Isolated Circuit Protection for All Serial Ports
High Capacity Li-Battery (7,200mAH) with Long Battery Life (3.5 hrs)
Multi-connectivity (Bluetooth/WLAN/GbE LAN)
Multi-expansion (U-DOM/Mini-card/Smart Card Reader)
Intel® SSD Compatible
.
Specifications subject to change without notice.
Looking for this model with a more powerful processor? Check out our Model 1561.
If you don't see the configuration you need call us at 781-890-3111 to see if we can custom build it for you.